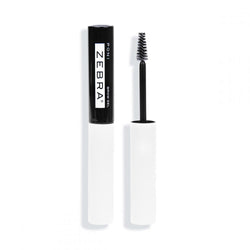 Beauty Box
Zebra Brow Gel
Tame and shape unruly brows with this clear, water resistant, long wearing eyebrow gel. The unique, ultra-precision spoolie helps you to create a polished finish - locking the hair in place with a soft looking hold and natural shine. Perfect for all eyebrows, including tattoos, to set a brow product or on its own.
Gorgeously groomed brows are the secret to a polished, put together look with or without makeup. Zebra Clear Brow Gel creates a flawless finish that lets your natural brows shine (or if you've used a brow powder or pencil, works perfectly to seal in colour for all-day wear). 
Why people love Zebra Clear Brow Gel:
- Polished looking brows all day long.
- Clear gel.
- Water resistant.
- Can be used over brow tattoos.
- Creates natural looking shine.
- Strong but soft looking hold.
- Triangular spoolie for precise application.
Directions: Apply following the direction of eyebrow hairs. Perfect to use alone or team with our brow favs PONI Brow Powder, PONi Mane Stain, and PONi Brow Magic.