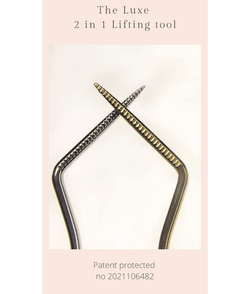 Beauty Box
Lami: The Luxe 2 in 1 Lifting Tool
The Luxe 2-in-1 lifting tool has been designed with love by industry professionals, and makes lifting and separating a breeze! This advanced lamination tool has 27 grooves on each side to speed up your treatment time and make it easier to get into the corners of each eye by flipping the tool around.
The best part: having grooves on both sides makes it easy to use for left and right-handed techs! No more struggling with a tool that wasn't designed for your needs.
- Lifts and separates hairs to reduce time spent on wrapping lashes.
- Extra length for improved speed.
- Unique design, 54 grooves, improved sharper tip.
- Faster lifting and perfect separation.
- No need to use any other tools.
- Easily cleaned and disinfected in between clients.
- Made from the highest quality materials, it will not oxidise with prolonged contact with water (unlike other tools on the market). 
- Unlimited 12 months replacement warranty.
Cleaning instructions
Once you finish using your tool put it in water until you have time to clean it. It will soften the glue and make cleaning your Luxe 2-in-1 lifting tool a breeze!
Wash in soapy water using a brush. Rinse with water and dry thoroughly. Immerse it in ViraClean (or other hospital-grade disinfectant) for 5 minutes, then allow tool to air dry. Need to use it right away? You can wipe it dry with lint-free paper towel.
Store in an airtight container to prevent contamination.
It can be sprayed or wiped with isopropyl alcohol as well before the next use.
Au Patent no 2021106482,  world wide patent pending