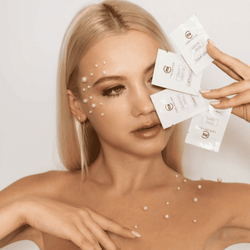 Beauty Box
My Lamination Lash Lift and Brow Lamination Sampler Kit (5 Lifts)
My Lamination is a dual lash lift and brow lamination product. An award winning formula, the Keratin Lash Lifting system was specifically designed with lash and brow health in mind: promoting lash health, strength, thickness, fullness, and length while producing WOW effect Lash Lifts.
The Sampler Kit contains :
1 sachet 1.5ml of Lifting Lotion,
1 sachet of Neutralising Lotion 1.5ml
1 sachet of Hydrating Serum 1.5ml
1 sachet Vitamin Lashbrow 1.5ml
Everything you need to complete five lifts.