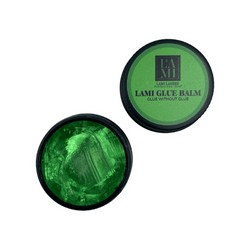 Beauty Box
Lami Glue Balm Apple 20g
Give your clients some TLC (tender lash care!) during your lash lift treatments with a revolutionary adhesive which provides a 2-in-1 treatment of lifting and nourishing.
Glue-Balm by Lami Lashes is a "glue without glue" adhesive - acting as a glue to hold lashes on the shield, while nourishing them like a balm. One of the only glues on the market to include the moisturizing stage in step 1, Lami Glue-Balm is rich in vitamins and nutrients to prevent dehydration of the lashes.
Argan oil, jojoba oil, and avocado oil nourish the lashes without creating a film. Instead, the hairs absorb the oils, resulting in soft and healthy lashes your clients will love. Unlike traditional glues, the oils penetrate the lashes, removing the need to wipe off excess product which saves time and deeply hydrates lashes. Additionally, because this unique formula doesn't "dry out", you'll have more time to make adjustments. 
Formulated without harsh ingredients, you can safely apply glue close to the lash line without causing any irritation.