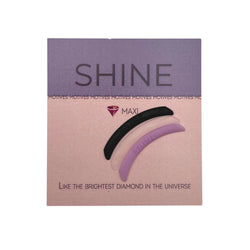 Beauty Box
Katya Vinog Compensators/Covers , Shine
Lash Lift  Compensators/Covers  by Katya Vinog
YESSSS – they are finally here! Another one-of-a-kind product from our lash lift queen Katya Vinog – THE COVER COLLECTION!
You might ask what a cover is and why I should get one.
WHAT – The lash lift covers were created to perfect your lash lift results by
preventing solution evaporation
maximizing solution penetration
stabilizing the chemical process
ensuring the solution stays in place
acting as a compensator to eliminate root tension
helping identify any lashes requiring re-positioning
WHY – because you want to ensure maximal lift results at every stage of the lash lift application and leave your customers drooling for next time with the results you just delivered with the help of these magical covers.
Each package comes with 3 sets of covers for each stage of the lash lift procedure.
Purple – to be used during step 1 processing to prevent solution evaporation and act as a stabilizer for the chemical processing.
Clear – to be used during step 2 processing to stabilize, and prevent evaporation and root tension. The clear design also makes it super easy to identify any lashes requiring re-positioning after the placement.
Black – to be used during the tinting process to evenly tint the lashes by being secured to the shield while ensuring the tint mixture does not seep into the waterline/eye causing that sting that we all know results in a very unpleasant customer experience.
As always, made out of high-quality silicone that is extremely soft and elastic. The Katya Vinog Lash Lift Covers were designed to perfectly mold on top of the Katya Vinog Lash Lift Shields. They are extremely easy to place and remove due to their ultra-thin design.
Not to worry, they were designed to fit any shield on the market so feel free to pair them with your favourite lash lift shields.
It has been a long time waiting so act fast because you don't want to miss out on these functional yet fun little covers. Helloooooo, even more amazing lash lift result!
Directions: After each use immediately clean with warm water and antibacterial soap followed by 3% hydrogen peroxide soak for 30 min. or 10 min. soak in 70% alcohol, followed by a water wash to complete the sanitization. Let the patches air dry before placing them back in the clear holder.